2021 HKDSE Results
Hoi Ping scholars pass HKDSE 2021 with flying colours
Results of the HKDSE 2021 were released on 21 July 2021. With their diligence and academic competence, Hoi Ping students achieved impressive results despite challenges posed by COVID-19.
Of the 125 students who sat the HKDSE examinations this year, 91.2% have attained the university entrance minimum requirement (33222), which is our second-best performance since 2012. Hoi Ping's performance in the four core subjects also surpassed the territory-wide statistics by a wide margin. There are 27.2% and 70.2% of students who have achieved Level 5+ and Level 4+ respectively, and 3.1% of them have achieved Level 5**, which is our third-best performance since 2012. Meanwhile, 25 students scored 25 points or above.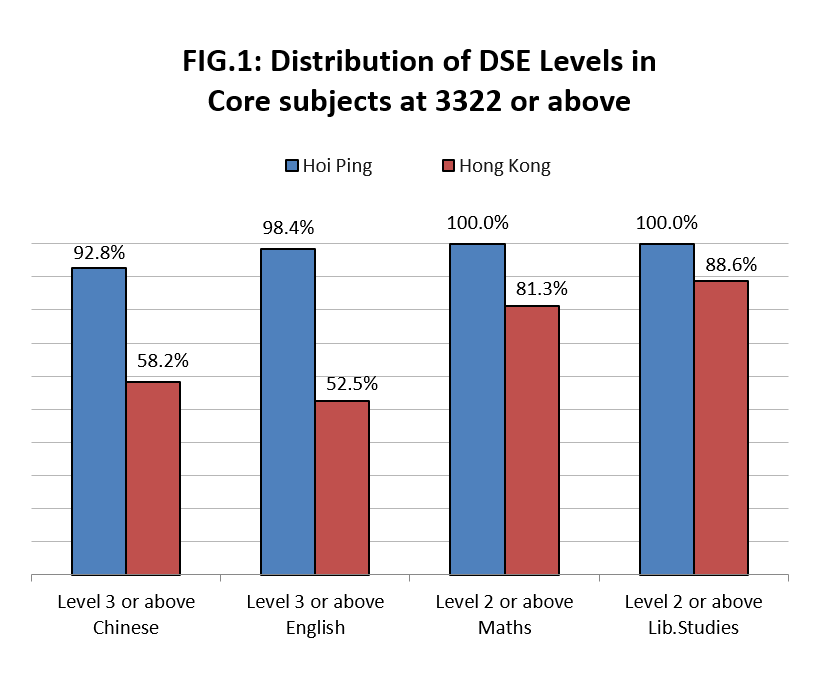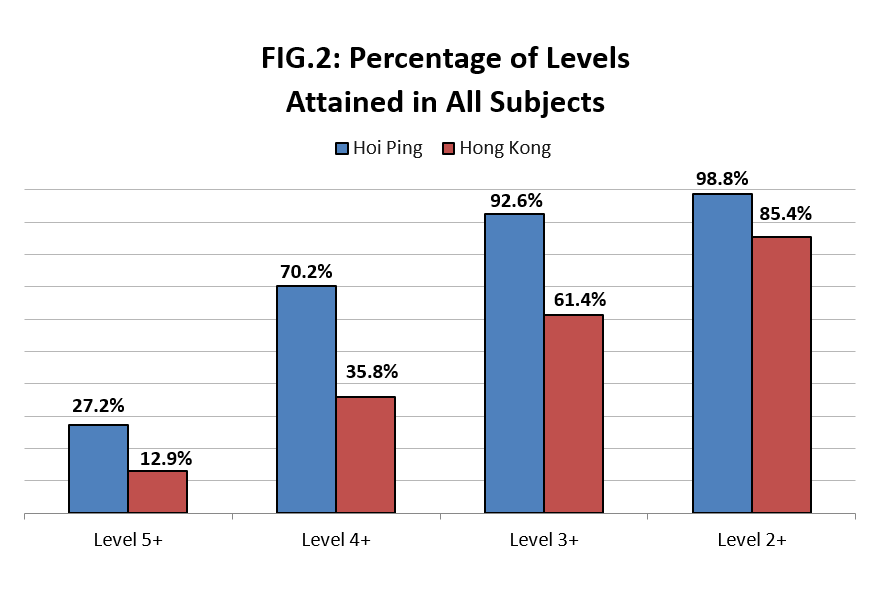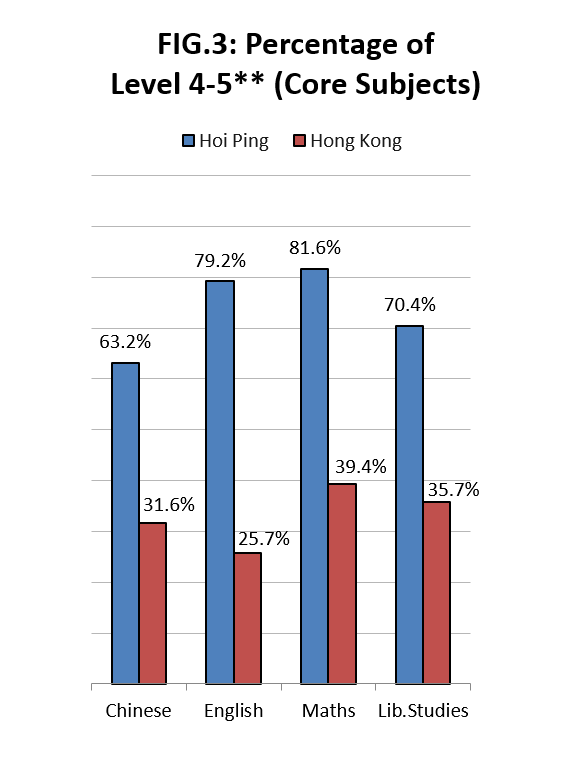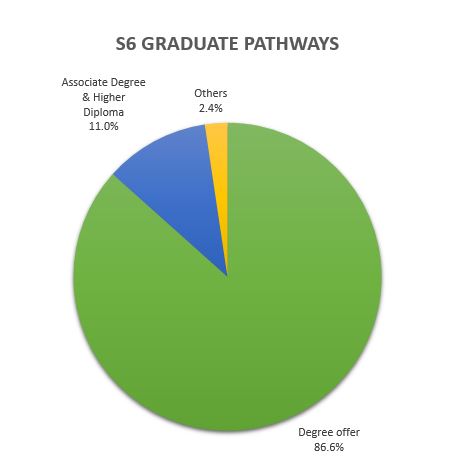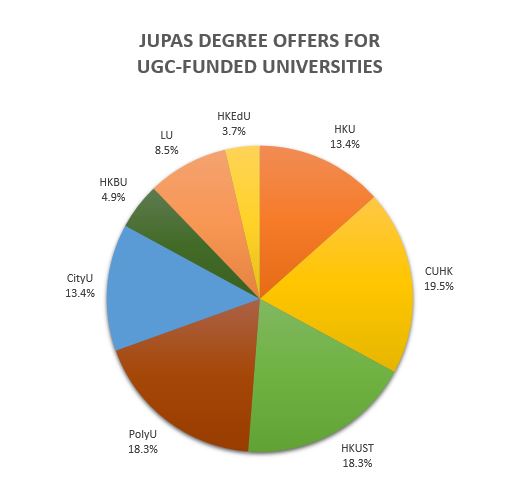 S6B Tam Ming Pan (Andy)
Set goals, stay disciplined
Andy has attained six 5** (including M2) and two 5* in DSE 2021. Having obtained competitive results, Andy has received offers to study Medicine in The Chinese University of Hong Kong and The University of Hong Kong.
Andy revealed that learning under the pandemic was a challenge for him. Due to a long period of school suspension, his learning progress lagged behind originally. Nevertheless, Andy watched educational videos online and sought help from teachers to consolidate concepts.
Andy emphasised the importance of self-discipline and determination when preparing for the DSE exams. During his study leave, he set a goal of studying for 10 hours every day whilst ensuring a regular daily routine. 'Sleep early and wake up early. Also, drink plenty of water.' He also reminded Hoi Ping students to do their best and believe in themselves.
S6B Mok Hoi Cheung (David)
Enthusiasm is the fuel of life
David scored four 5** and three 5* in DSE exams, while his stellar performance is attributed to his consuming passion for science. He always reads about science in his spare time and takes the initiative to learn more about genes and viruses. David brings this passion into his daily life and learning by taking notes and doing plenty of supplementary exercises. To release his stress, he also delves into areas such as artificial intelligence and natural science.
When preparing for the DSE exams, David established a healthy daily routine. He would wake up early to study and arrange sufficient breaks in between, in order to strike a balance between health and studies. David would often discuss difficult questions with teachers and classmates and work on past papers to deepen his understanding. David also made good use of the learning resources provided by the school. He explained that they are neat and comprehensive, making it more convenient for him to revise and thus raising learning efficiency.
David mentioned that he planned to pursue a healthcare-related degree. Talking from his experience, David encouraged Hoi Ping students to read more books to build a good foundation in humanities and do more past papers so as to excel in science subjects.
S6B Fan XinWei (Samuel)
DSE is a marathon, not a sprint
Capturing straight 5** in all the sub-papers of Chinese Language, Samuel highlighted the importance of integrating what you learn in daily life into the exam. He is a fan of period dramas. His daily exposure to historical figures in dramas enables him to make his argumentative essays more persuasive during exams.
To prepare for the DSE exams, Samuel completed a lot of past papers and exercises, and even worked on the more taxing A-Level questions, which led to a more thorough understanding of concepts. This played an essential role in his excellent 5** result in Economics.
Facing the tough DSE exams, Samuel emphasised the importance of rest and suggested that the best way is to work when we are physically and emotionally ready, maximizing learning efficiency. Besides, to relieve stress, he would chat with his friends as peer support certainly helped him get through the challenge.
'DSE is a marathon but not a sprint. Preparation should start in Form 4 but not in the study leave.' Samuel added. Lastly, he would like to express his sincere gratitude to Mr Chan, his English teacher, for his inspiration and encouragement.
S6C Chiu Wai Yan (Kitty)
Practice makes perfect
Kitty had a stellar performance in the DSE exams, attaining 5** in Chinese Language and four 5* in English Language, Mathematics, Biology, and Economics. Kitty believes that her key to success is self-discipline, especially in the time of the pandemic. During her study leave, Kitty would look for by-year past papers to help her identify her weaknesses and formulate a more effective revision plan. In addition, she would invest her time in by-topic past papers, which helped her further consolidate her knowledge, giving her confidence when she was facing topics that she was more unsure of.
Furthermore, being a self-reliant student, Kitty did not depend on tutorial classes. Instead, she would recommend having a study partner. She explained that discussions among peers allowed her to learn from other people and improve herself.
The DSE exams could be really stressful for students. To tackle the challenge, Kitty encouraged her juniors to grant themselves sufficient time for rest and not to be too harsh on themselves. Besides, she advised DSE takers to arrive at the examination venues earlier to get themselves mentally ready.
Interviews conducted by: 4B Cheung Hei Ching, 4B Sheng Yuxuan, 5B Tam Christiana, and 5B Wong Chiu Ming.
2021 中學文憑試學生成績綜合匯報
迎難而上 保持優勢
開平應屆考生在疫情下沉著應戰、頑強拼搏,終順利完成本年度中學文憑試,公開試成績亦能保持一貫優勢,表現優異。開平同學一向發展全面,中英、文理兼擅,本年度在文憑試依然表現出色,數據反映同學在艱苦的情況下仍能於學業更上一層樓。
本年度共有125名學生參與中學文憑試,達到大學入學最低要求(33222)的比例達91.2%,為2012年以來的第二佳績!四大核心科目均有出色表現,合格率遠勝全港水平。此外,考獲5等或以上及4等或以上水平的比例分別為27.2%和70.2%;當中有3.1%的學生考獲5 **。在最佳5科中考獲25分或以上人數為25人,表現同樣遠高於全港水平。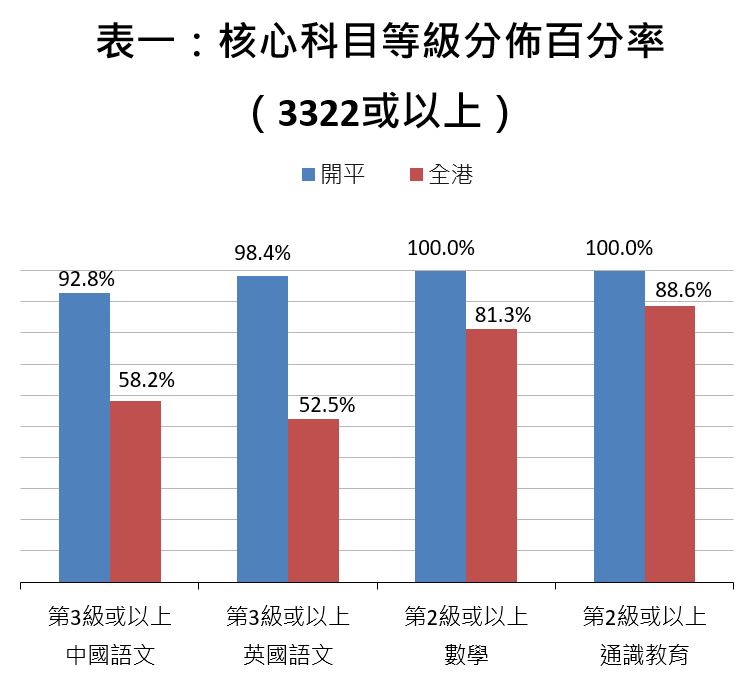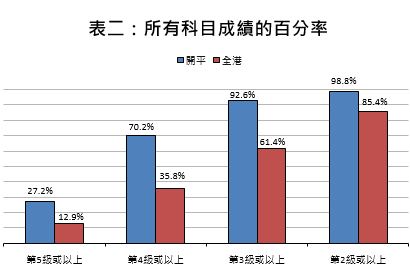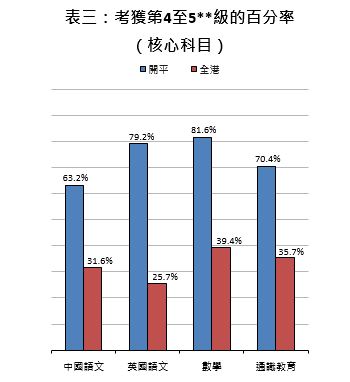 中六乙 譚茗賓
目標明確,自律勤勉
譚同學成績十分優異,在數學、數學延伸單完二、通識、化學、生物和經濟六科均取得5**的佳績。拿著這份出色的成績,他成功獲中文大學和香港大學的醫科錄取,未來可期。
對於突如其來的疫情,譚同學表示在學習上面對一定的挑戰。因爲疫情期間改為網上授課,課時的減少讓他感到不安。但亦正因如此,使他更自覺要時刻保持自律。老師錄製的影片,他會認真地學習,他在課後又會主動找老師請教和抒發感受,從而鞏固知識,同時釋放不安感。
除此之外,譚同學表示,在準備應考的過程中,最重要的就是我們的自律和決心。在離校自習的日子裏,他制定了一天學習十小時的計劃,與此同時,他也設定合理規律的作息時間。他寄語同學們,堅持信念會讓我們更容易邁向成功,在青春歲月裡努力付出,才會無悔。
中六乙 莫凱翔
熱愛科學,堅持不懈
莫同學奪得數學、通識、化學、經濟四科5**,三科5*的佳績,此佳績與他對科學的熱忱可謂密不可分。他自小便對科學有濃厚興趣,課後經常翻閲科學的書籍,鑽研與病毒和基因相關的知識,他更將這份熱愛投射到學習和生活上,總是孜孜不倦地操練試題,做筆記。他在高中階段更經常關注人工智能和自然科學的議題,這是他舒緩學習壓力的方式之一,也是累積學問與享受學習的過程。
莫同學一向保持良好的作息習慣,他習慣早起複習,中間多作小息,以免身心過度勞累。他經常反覆鑽研歷屆試題,面對難題,他會找老師和同學互相討論,鞏固記憶。
莫同學表示欲報讀醫科,也有準備報讀物理治療學或放射治療學。源於自身的經歷,他希望學弟妹可以儘早在語文科目上打好根基,多看書籍,同時在理科方面要勤於操練試題。只要持之以恆,一定有所收穫。
中六乙 范芯瑋
融會貫通,同儕互助
范芯瑋同學在中文、經濟中取得5**,以及4科5*的佳績。能夠在中文科取得全卷5**,他認爲與其到坊間補習,學習華而不實的考試技巧,倒不如學會融會貫通,在日常生活中吸取語文的養分。例如多看歷史劇,將例子運用在寫作上,對卷二和卷三也會有很大幫助。在疫情陰霾下走過高中時光的中六同學,在學習上或多或少都會感到有壓力。范同學不時會與同學聊天閑談,鼓勵同學之餘,同時也為自己打氣,讓自己的壓力得以舒緩。同儕之間的互相扶持,絕對是助他順利度過難關一大因素。
此外,范同學在高中時期數獲老師邀請回校指導學弟妹,因而亦對教育產生憧憬。同時,他非常感激英文老師指引他明確的學習方向,為他未來規劃作出引導。最後,他寄語師弟妹:文憑試是一場馬拉松,而不是短跑。只有提早起步,持之以恆,才能跬步千里,學有所成。
中六丙 趙尉因
積極自學,熟能生巧
趙同學在文憑試中取得中文5**,4科5*的優異成績。能夠獲得如此佳績,她有什麽取勝的關鍵?趙同學認爲培養自學的本領是疫情下的奪星王道。在離校自學期間,她經常操練歷屆試題。她認爲要先操練每年試題,了解自己的弱項後,再針對弱項操練有關該主題的題目,才能穩固所學。作爲一個積極自學的學生,她不會過於依賴補習,而是會與同學結伴而行,互相提問不懂的内容。此外,她亦會主動積極地向老師提問,在與同學、老師的交流中了解自身不足,從而作出改善。
文憑試固然令人感到有壓力,但趙同學勉勵學弟妹,無論如何也要有充分的休息和睡眠時間。另外,她以自身經驗提醒師弟妹,應考時的心理狀態非常重要,考試前如能對試場環境作充分了解,並提早到達試場,以避免發生突發狀況,考試會更得心應手。
訪問及撰稿:4B張熹晴、盛語軒;5B譚思怡、黃昭銘。