2015 HKDSE Results
Outstanding Students in HKDSE 2015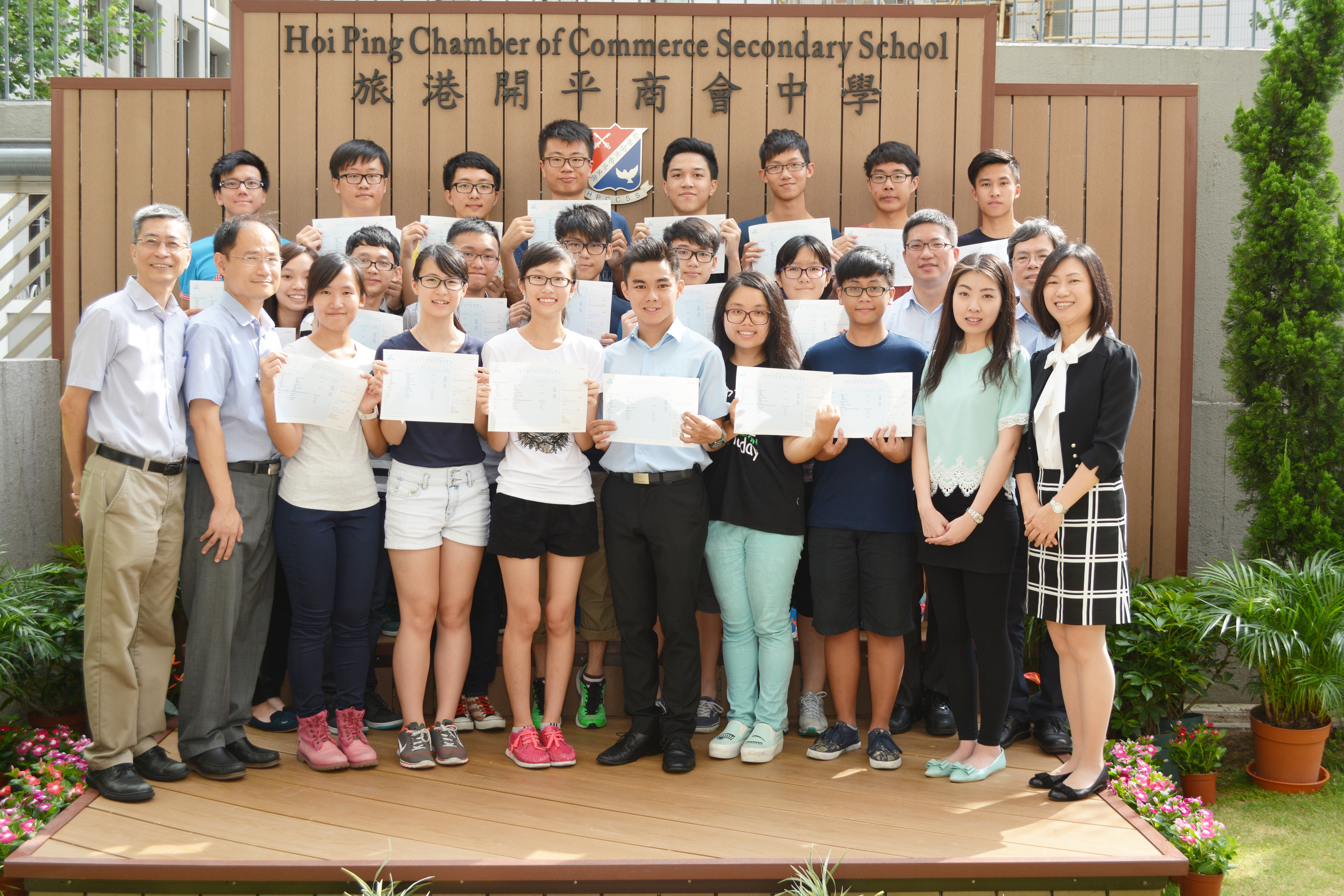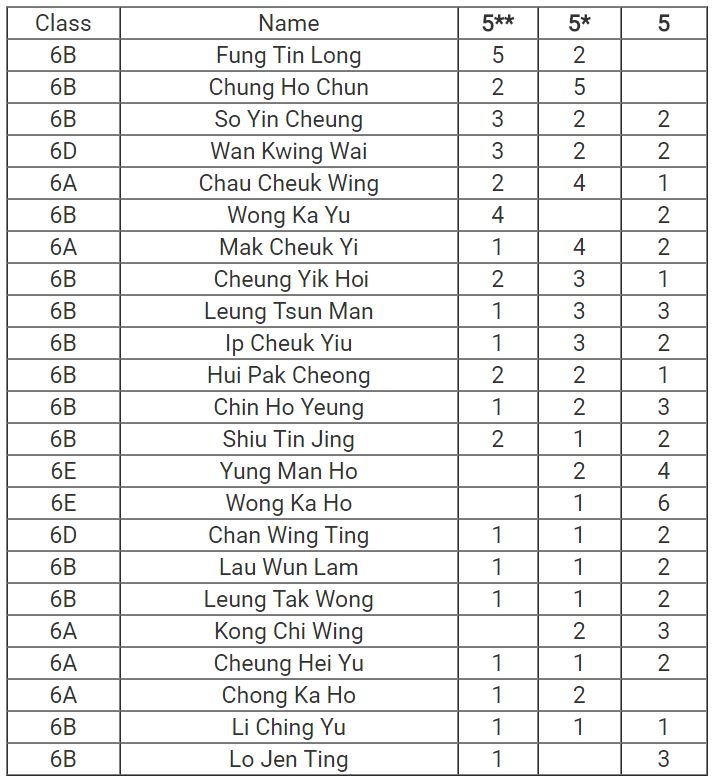 4th HKDSE Results Report
Hoi Ping students have been known for their diligence and academic achievements. This year, they once again achieved impressive results in the 4th HKDSE.
開平中學的學生一向以勤奮和成績出眾見稱,今年他們再接再厲,於香港中學文憑試中取得優異的成績。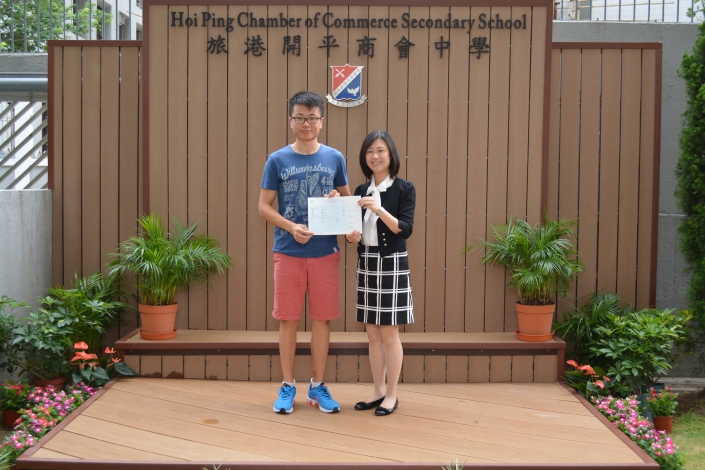 Fung Tin Long 6B
Fung Tin Long was an active member of the debate team with numerous awards under his belt. However, rather than being dragged down by his active participation in debate competitions, he felt that the time had been well-spent and had even helped with his performance in DSE. "Before each competition, you need to do a lot of research to prepare yourself for all kinds of situations. This expands my horizon and gives me the ability to think in multiple perspectives, which is particularly helpful when tackling Liberal Studies exam questions."
Fung was particularly passionate about science subjects, and with a strong drive to do well, he successfully attained 5** in English, Liberal Studies, Physics, Chemistry and Biology. He has applied for medicine programmes as he hopes to enrich his science knowledge in higher education.
馮天朗6B
馮天朗是一位活躍於英文辯論隊的隊員,他曾於多項辯論比賽中獲得獎項。雖然他積極參與英文辯論,但他的學業沒有因此而受到影響,相信他認為辯論能令他善用時間,訓練過程亦對他文憑試的表現有幫助。馮同學表示:「每次比賽之前,需要進行大量的資料搜集以準備應付不同的立場和議題,這對他回答通識教育科的問題有一定幫助。」
馮同學對他科學範疇的科目感興趣,因此有很大的學習動力,希望自己能有出色的表現,他最終亦成功在英文、通識教育、物理、化學及生物科中取得5**的佳績。他計劃報讀醫學科,因為他希望能於大學之中,獲得更多科學知識。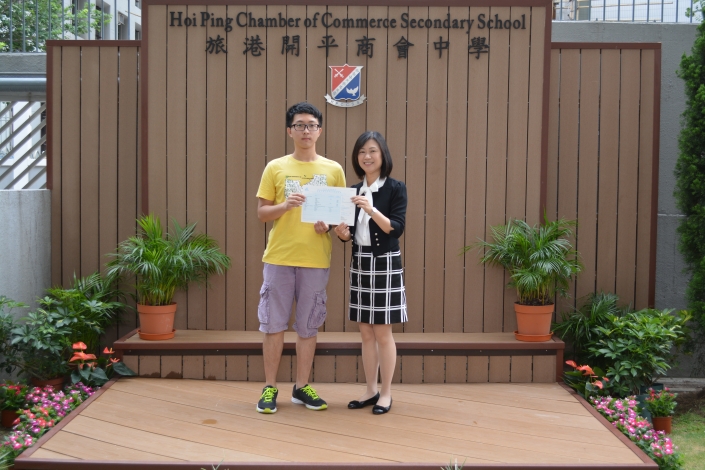 Wong Ka Yu 6B
To Wong Ka Yu, peer support was what helped him learn better and faster. An assiduous science student, he did exceedingly well and scored 5** in Mathematics, Economics, Physics and Chemistry. What was his success story? "My friends and I often had discussions on different subjects. This helped me consolidate my knowledge and refresh my memory. I found it really helpful to form study groups because we could exchange what we had learnt and inspire one another." This tells us that there is always something we can learn from the people around us.
Another study tip from Wong is to make the most out of the revision period and work hard. He had spent the time on drilling exercises from teachers in order to familiarise with exam questions; besides, the revision period was a crucial time to refresh memory right before the exam.
Wong has set his mind on science subjects for his further studies in order to pursue his interests in science.
黃家裕 6B
朋輩互相學習能促進溫習的效率,是他的讀書竅門。黃家裕是一位專注學業的理科生,他於本年文憑試中取得優異成績,分別於數學、經濟、物理及化學科取得5**。黃同學分享他的讀書心得時表示:「平日同學會問我有關學科上的問題,通過解答問題,我能溫故知新,鞏固所學。因此我也會與同學一起組成讀書小組,互相交流,激發思考。」他的學習經歷正體現到「三人行,必有我師焉」的道理。
同儕溫習外,考試前密集的練習也是黃同學的溫習要訣之一。他表示考試前多做老師給他的練習,有助熟習題型;而且愈漸接近考試,記憶猶新,對答題有一定作用。黃同學未來傾向入讀科學範疇的學科,希望繼續發展自己在科學方面的興趣和才能。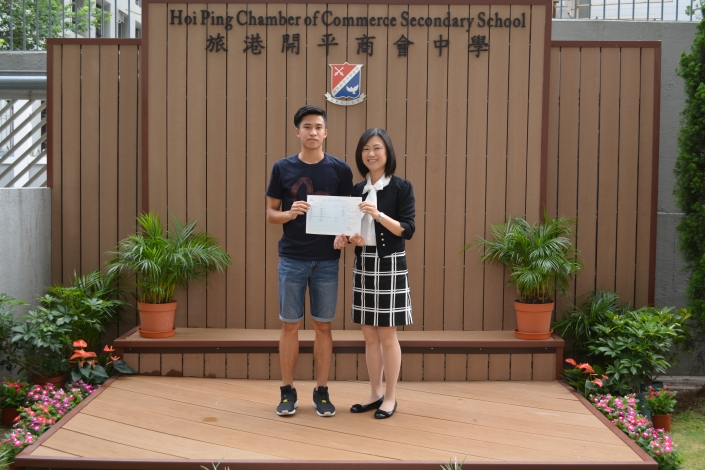 So Yin Cheung 6B
His formula of success is very simple: concentrate in lessons.
So Yin Cheung was a devoted member of the Athletics Team, but to prepare for DSE he had spent less time on training in S6. However, unlike many of his peers, So did not spend a lot of time on tutorial classes in his final year—that did not stop him from getting 5** in Mathematics, Chemistry and Physics. "I don't rely a lot on tutorial classes because to me, the most important thing to do is concentrate in lessons. It helps me understand concepts much faster, and everything else will come more easily. You can say that understanding is the first step to success."
He plans to study Actuarial Science because of his interest in science and mathematics.
蘇彥彰 6B
他的成功之道非常簡單:上課專注。
蘇彥彰是一位積極投入於田徑隊的隊員,直到中六需要準備文憑試,他才減少訓練時間。與他的同輩不同,在公開試前夕他並沒有花太多時間補習─但這並沒有阻礙他於數學、化學及物理科取得5**的佳績。蘇同學說:「我並不會依賴補習班,因為於我而言,最重要的是集中上課,這樣我便可以更快明白相關的概念,令之後的學習相對較容易。所以,透徹理解可謂成功的第一步。」
他計劃報讀精算學系,因為他對數學和科學感到濃厚的興趣。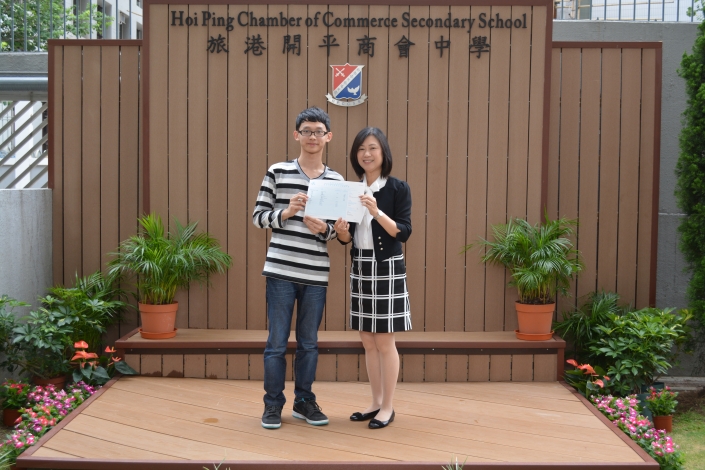 Wan Kwing Wai 6D
Wan Kwing Wai is another science student who has achieved pleasing results in this year's DSE: 5** in Mathematics, Economics and Chemistry. He shared his study tips with Hoi Ping students. "S4 was a vital period for me because I made a lot of effort to establish a good foundation of my subject knowledge. What I did at the time was the greatest contributor to my satisfactory DSE results."
Wan added that wise and prudent time management is very important. Once good habits have been developed, such as practising past papers every day, other things will be within our reach!
A science enthusiast, Wan is interested in biology and the human anatomy, and has applied for medicine programmes in local universities.
溫烱威 6D
溫烱威是另一位在本年文憑試中取得佳績的理科生:他分別於數學、經濟及化學科取得5**。他向開平中學的學生分享他的學習經歷:「中四是關鍵的時期,我在那時努力地鞏固各科的知識基礎,今天能在文憑試中獲取佳績,也要歸功於昔日自己的用功。」
溫同學指出明智和審慎的時間管理極為重要,當他建立了一個良好的習慣後,學習便事半功倍,例如每天操練公開試過去的試題,
作為一位科學熱衷者,溫同學對於生物及人體解剖感到興趣,有見及此他計劃報讀本地大學開辦的醫學科。