2020 HKDSE Results
2020 HKDSE Results
Hoi Ping scholars make history in HKDSE 2020
Today was a special occasion for Hoi Ping as our students' hard work and effort finally paid off. Their diligence and resilience during the periods of school suspension due to the outbreak of COVID-19 have enabled them to bring home the most impressive results since the start of the Hong Kong Diploma of Secondary Education Examination (HKDSE).
The percentage of students attaining Level 5+ and Level 4+ have leapt to a record high of 31% and 71.8% respectively; 3.3% of students have attained Level 5**, which is our second-best performance since 2012. Of the 150 students sitting the HKDSE this year, 88% of them have attained the university entrance minimum requirement (33222), which is also our second-best performance. The percentage of our students scoring 22 points or above in their Best 5 subjects was 41.3%, with a rise of 8.4%. Among them, 26 students scored 27 points or above, with 6 of them scoring 30 points or above.
Hoi Ping students fared much better when compared to the overall statistics of Hong Kong candidates, with 81.9% of our students attaining Level 4+ in Mathematics (39.1% in Hong Kong), 77.2% in English (28.3% in Hong Kong), 63.8% in Chinese (31.7% in Hong Kong) and 59.6% in Liberal Studies (30.5% in Hong Kong). In particular, a record high of 40% of our students captured 5* or 5** in Mathematics Module 2 (M2), which is 24.9% better than the overall statistics in Hong Kong; as for English Language, the percentage of students capturing 5** has leapt to 4%, which was also record-breaking. The elective subject with the best performance was Economics, with a record high of 10% and 21.7% of students attaining Levels 5** and 5*­+ respectively, compared to 1.9% and 7.0% in Hong Kong.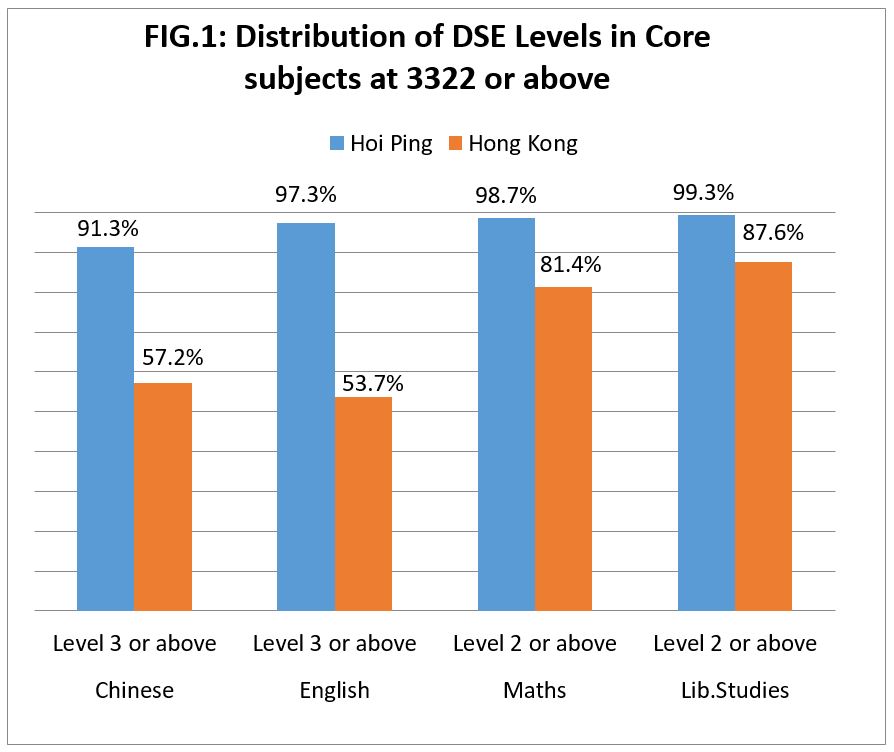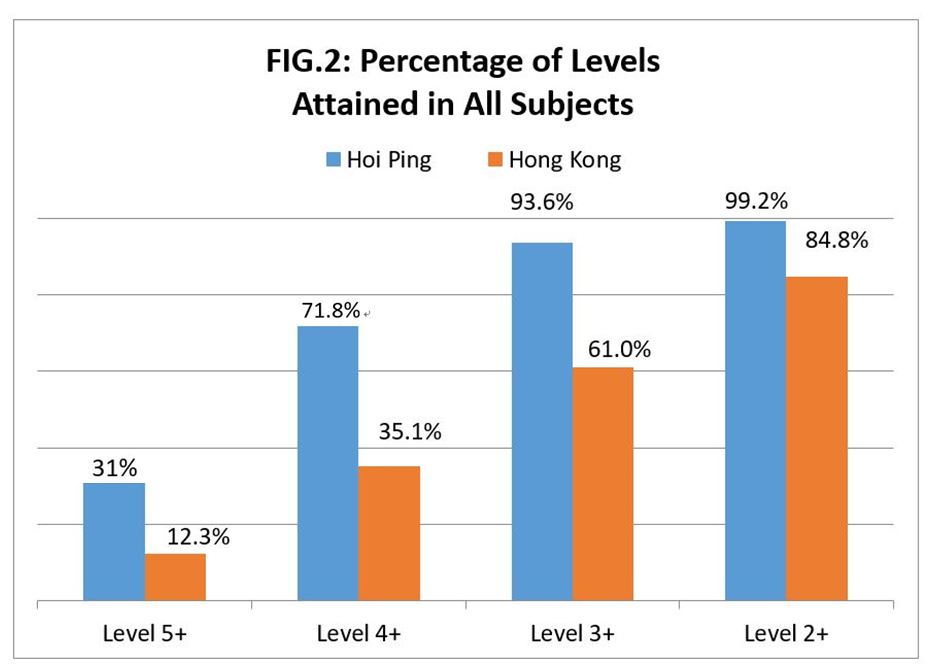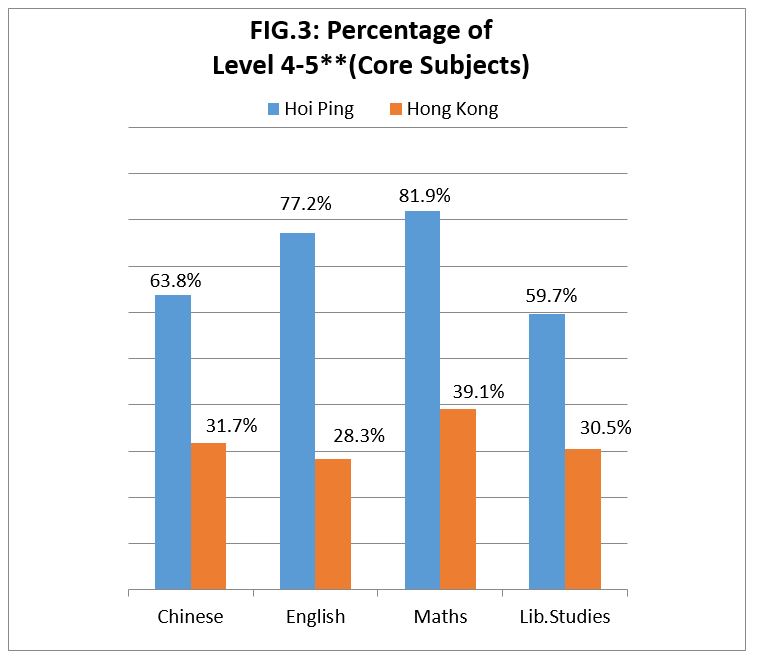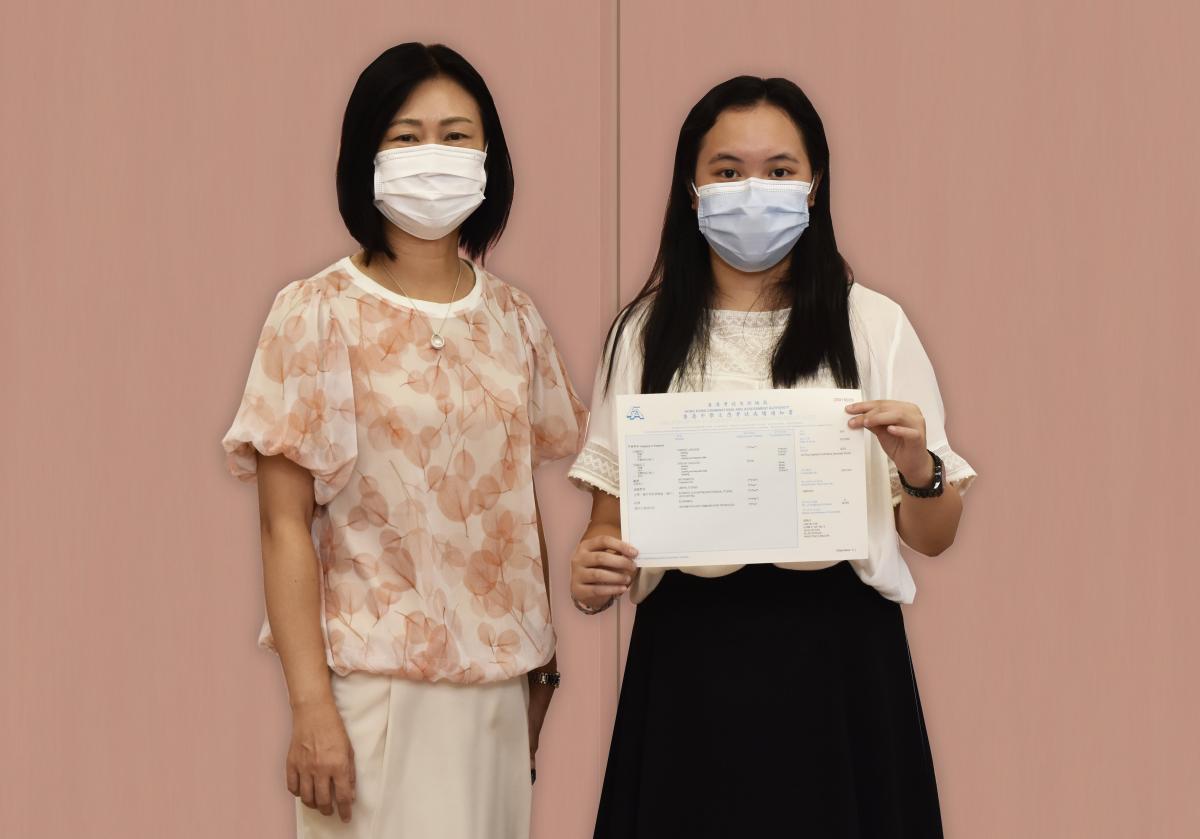 S6E Law Hiu Yan, Karen
Clear goals with versatility
Karen has attained four 5**, two 5* and one 5 in HKDSE 2020. Long before the release of HKDSE, Karen had already decided to step out of her comfort zone and broaden her horizons. She is going to pursue her studies in Business Analytics in the National University of Singapore (NUS).
Karen has nurtured a habit of being well-prepared for any challenge she faces since she was in S.4. Starting from the summer in S.5, she would deepen her learning according to the goals she set every day. In addition, she would set a strict time-table and do revision following a realistic study plan.
To relieve her stress from academic studies, Karen often listens to music and chats with friends so as to stay healthy – both mentally and physically – when facing the challenges in public examinations.
To cope with the ever-changing society and learning environment, Karen recommends her juniors to stay positive and improve their foundation by reading extensively and reflectively, as well as learning diligently and humbly.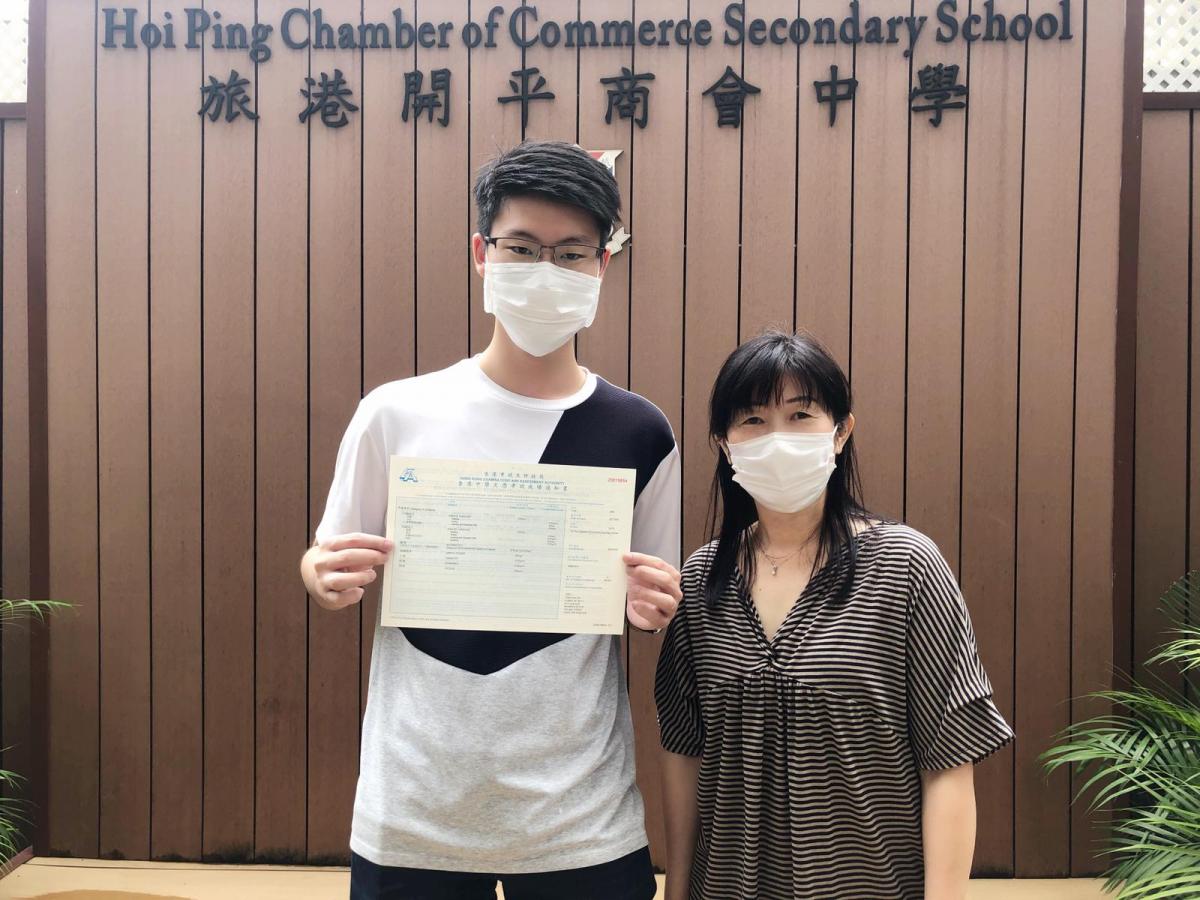 S6B Tong Kun Chi, Alpha
Don't be afraid to make mistakes
Tong Kun Chi (Alpha) scored three 5** in Chemistry, Economics, and Mathematics (Compulsory); together with the competitive results in other subjects, he has been given an offer to read law at the London School of Economics.
Alpha's approach to the DSE was simple: instead of studying textbooks from the first page until the last, he quickly delved into past papers to revive long-forgotten memories, which helped him pin down what he was lacking and formulate an efficient revision plan targeting his needs. 'As a science student, it was important for me to write accurate answers by using keywords required in the marking criteria.'
More importantly,' he added, 'Don't be afraid of making mistakes. They let you know what kind of effort you need to make in order to be fully prepared.' This mindset came from Alpha's habit of doing self-reflection, prompting him to focus on the right things within limited time.
For most students, exams are very stressful; this year, DSE sitters were even faced with a pandemic of an unprecedented scale. What did Alpha do to get through it all? 'I adjusted my body clock day by day to ensure adequate sleep. I never overworked myself and studied obsessively. These created the perfect conditions for me to remain calm, even on the day of the exam.'
Alpha expressed that he looked forward to furthering his studies in a completely new environment--this determined young mind had already planned to challenge himself with more academic goals. We wish him all the best.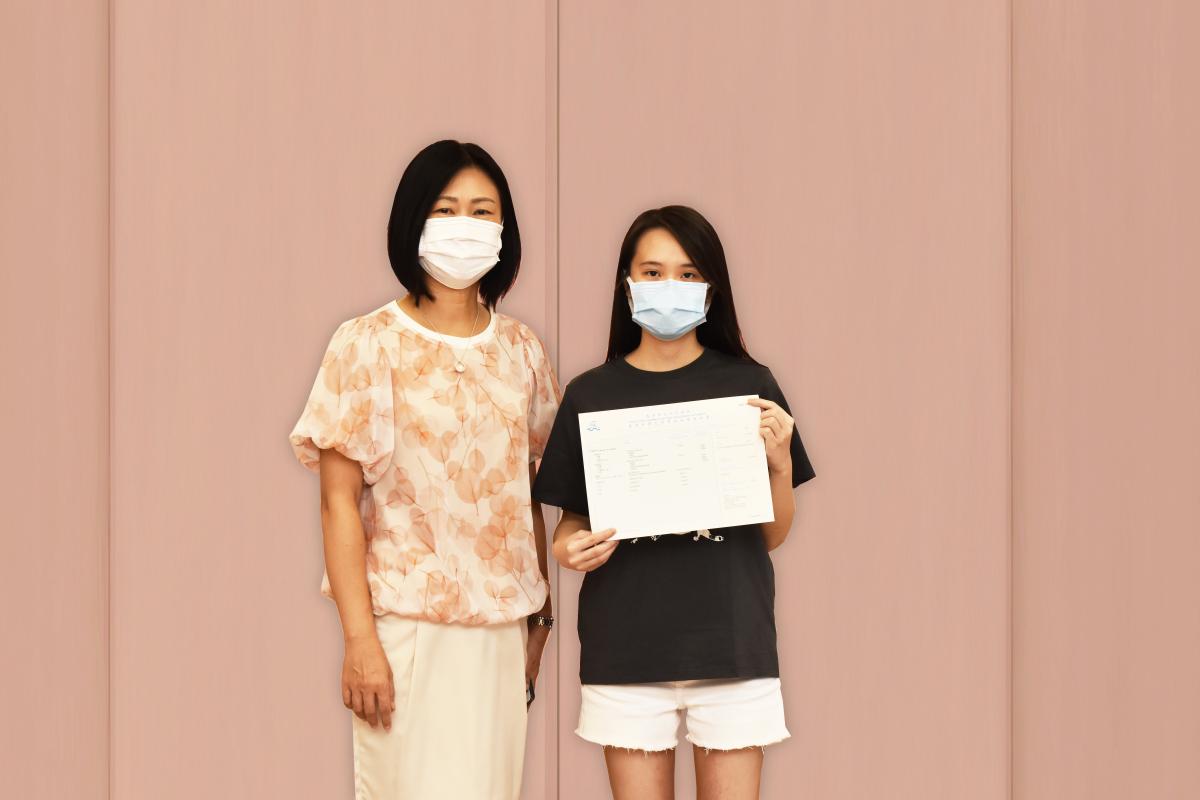 S6A Tsang Chin Yung Virginia
Diligence rewarded, dreams realised
Virginia Tsang has attained two 5** and three 5* in HKDSE 2020. She is an enthusiast in science and mathematics, having participated in a number of science-related competitions like Joint-school Science Exhibition and Chemistry Olympiad. She is keen on scientific research and would like to further her studies in Computer Science at university and pursue her goals.
When asked which subject she was most satisfied with, she said it was Mathematics; she likes Mathematics the most and spent a lot of time revising. Her efforts did pay off when she captured a 5** in Mathematics.
The lack of face-to-face lessons during the pandemic did not hinder Virginia. Instead, she kept reminding herself to establish daily routines and to ensure sufficient rest while working hard; this could keep her in a good shape when facing the public examinations. She would also like to encourage other Hoi Ping students to pay attention in lessons, enhance their self-directed learning skills, conduct pre-lesson preparation more often and do sufficient revision.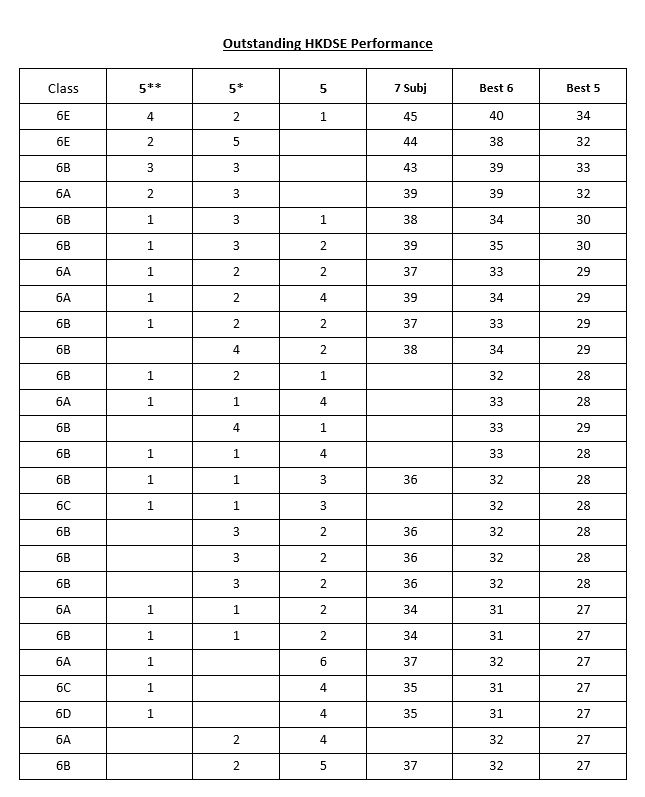 2020 中學文憑試學生成績綜合匯報
繼往開來 成績報捷
開平學生在新冠肺炎的陰霾下迎難而上、頑強拼搏,終順利完成本年度中學文憑試,亦迎來了歷年最優秀的公開試成績!學生整體在文憑試有出色表現,數據反映學生在艱苦的情況下仍能於學業更上一層樓。
本年度共有150名學生參與中學文憑試,考獲5等或以上及4等或以上水平的比例分別躍升至31%和71.8%,為歷年新高!其次,有3.3%的學生考獲5 **;達到大學入學最低要求(33222)的比例達88%。以上兩項亦為2012年以來的第二佳績!在最佳5科中考獲22分或以上的比例為41.3%,增幅達8.4%。當中26人考獲27分或以上,其中6人更考獲30分或以上。
開平學生一向發展全面,中英、文理兼擅。其中核心科目考獲4等或以上的數據如下:數學81.9%(全港39.1%)、英文77.2%(全港28.3%)、中文63.8%(全港31.7%)、通識教育59.6%(全港30.5%)。此外,在數學科延伸單元二(M2)中獲得5 *或5 **的比例達40%,創下歷史新高,相較全港的百分比高24.9%;英文科中,獲5 **的比例亦躍升至4%,同樣刷新了紀錄。表現最好的選修科目是經濟科,考獲5 **和5 *或以上的比例分別達10%和21.7%,遠勝全港的水平(1.9%和7%)。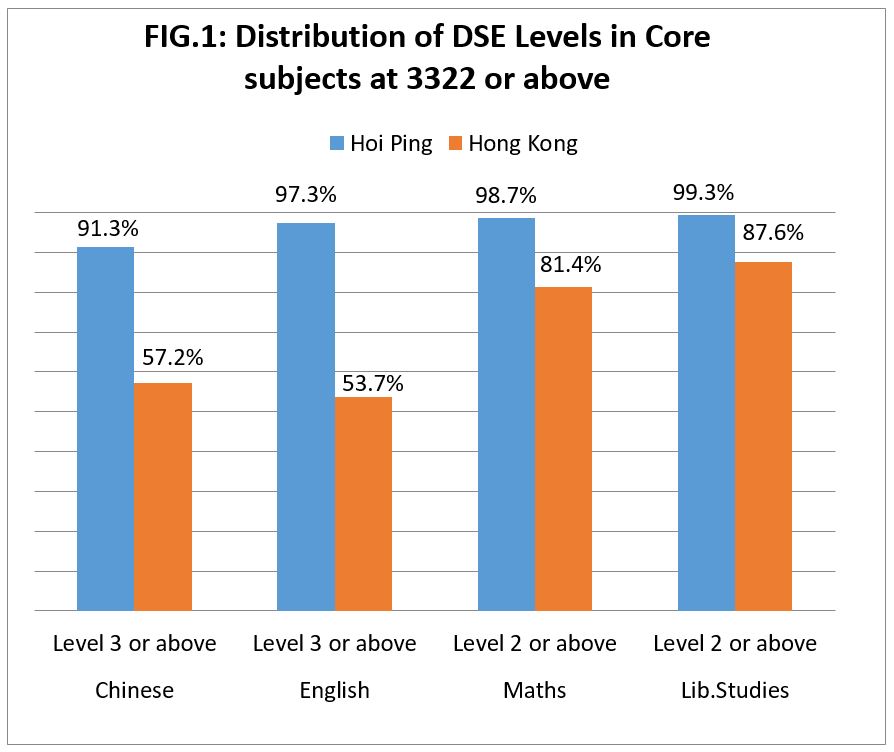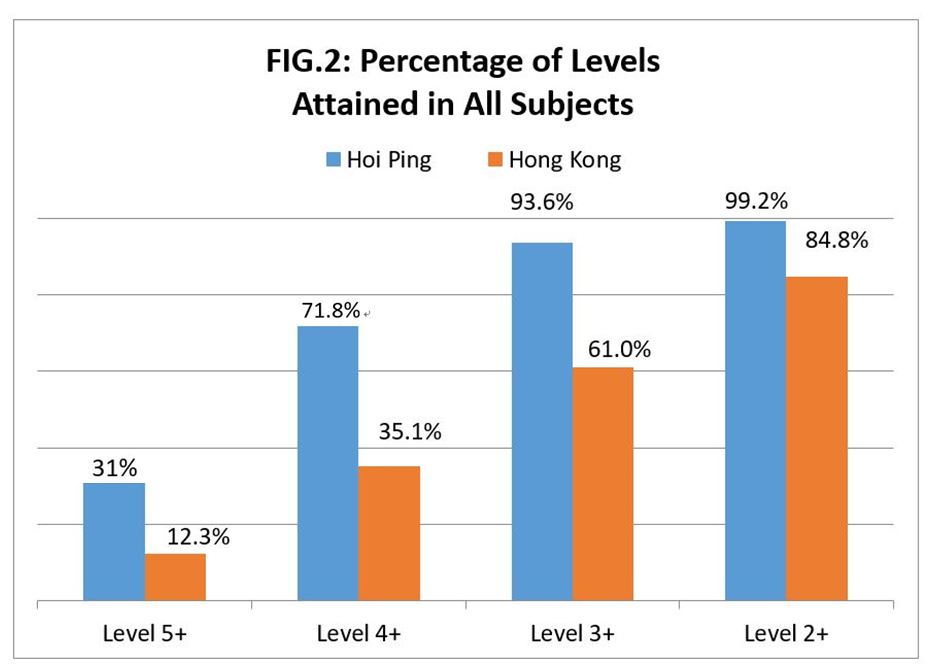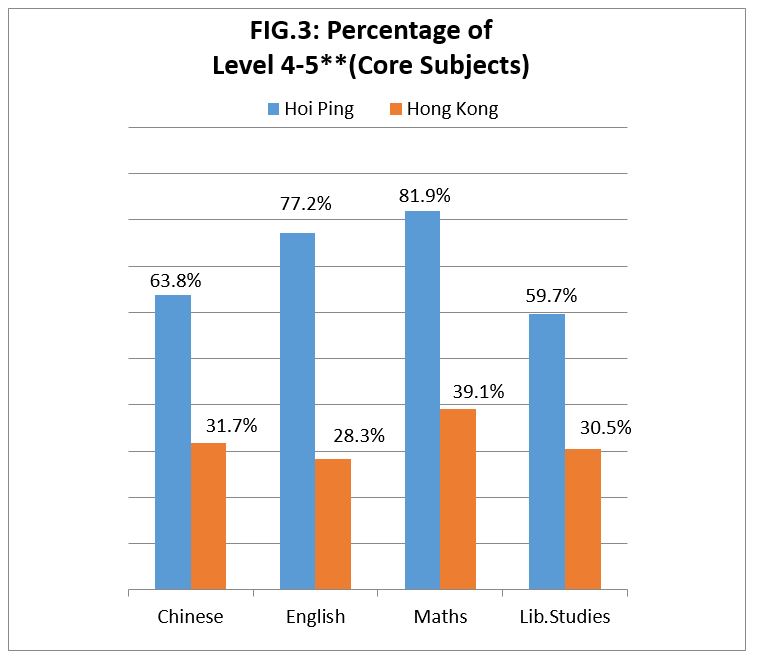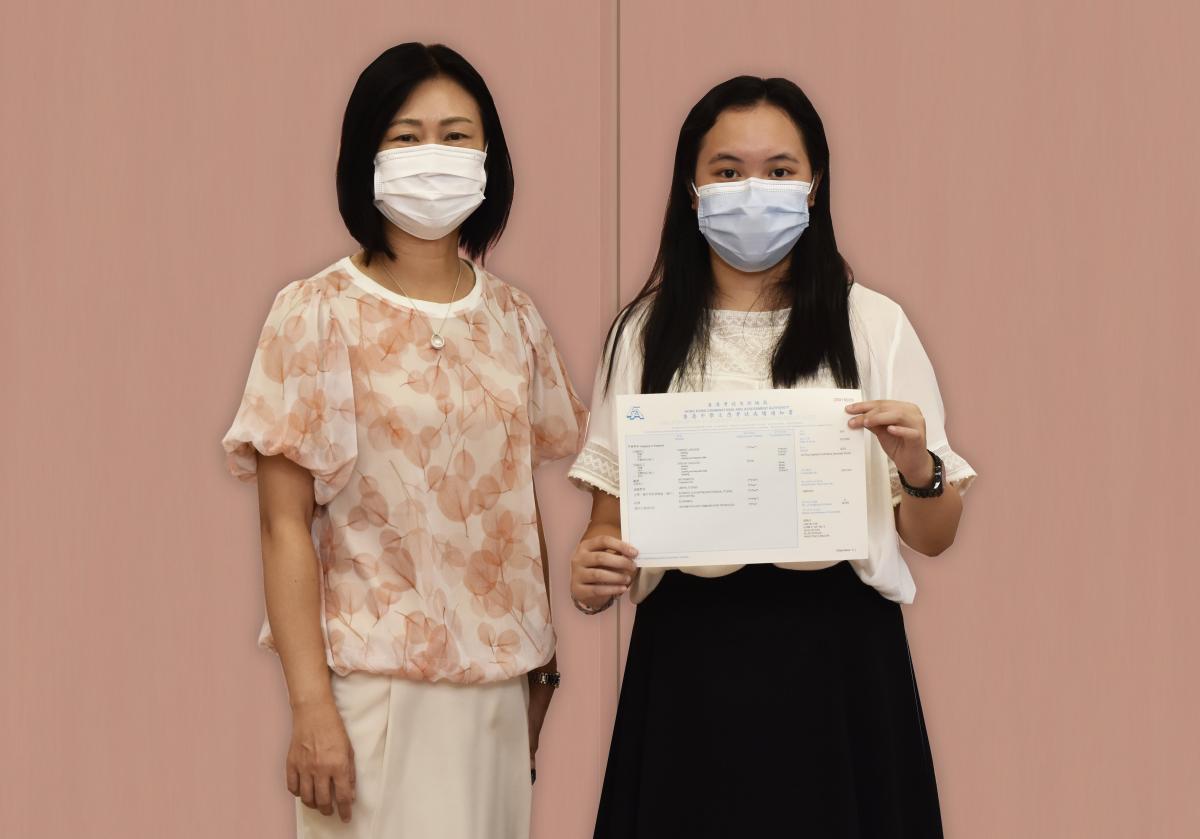 中六戊 羅曉欣
目標清晰,張弛有度
手握四科5**、兩科5*、一科5佳績的羅曉欣,早於放榜之前,已計劃好要在完成中學課程後,走出舒適圈,到外地探索更廣闊的知識領域。她即將前往新加坡國立大學(NUS)升學,攻讀商業分析科目。
曉欣這種常備不懈、居安思危的處事方式,早在升上高中時已經養成。在中五暑假起,曉欣每天都會根據自己設定的任務開展一天的學習;除此之外,她也會為自己制定嚴格的時間表,讓自己在合理的規劃下堅持溫習。
當然,除了緊張的學習,曉欣也會給自己適度的舒緩,例如聽聽音樂或與好友談天,好讓自己在身心健康的狀態下迎戰公開試。
面對變幻莫測的社會和學習環境,曉欣希望學弟妹也能保持積極的心態,正面應對;同時及早打好學習的基礎,按部就班,以期博觀約取,厚積薄發。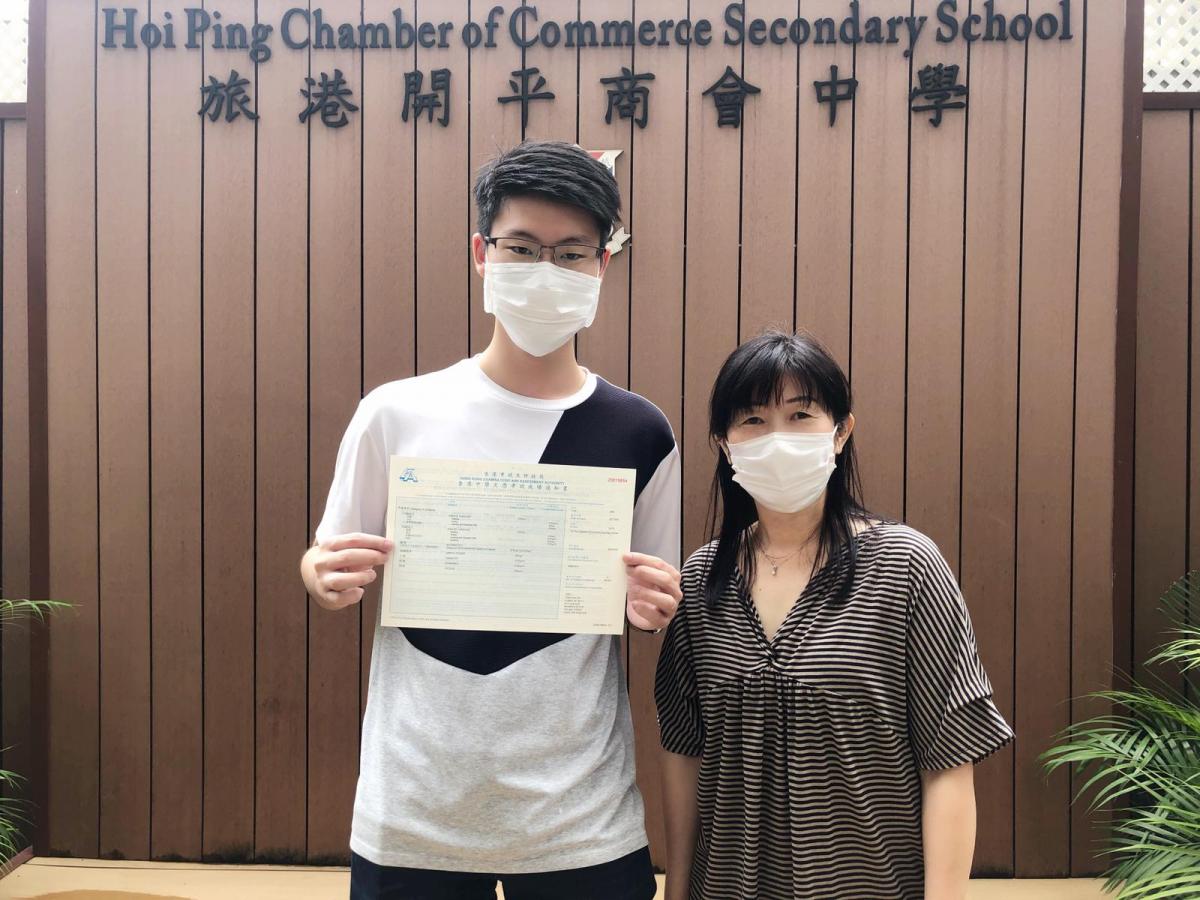 中六乙 湯貫之
湯貫之同學各科成績優異,化學、經濟和數學(必修)三科更獲得5 **佳績。憑著學業上突出的表現,他最終獲倫敦經濟學院法律系取錄。
鑽研過往試題
提及他文憑試獲取佳績的策略,他認為與其苦苦研讀教科書,從第一頁讀到最後一頁,不如鑽研過往試題來得有用。這既可加強他對科目內容的長期記憶,也幫助他明白自己學科上的不足之處,並針對這些不足,制定更有效的學習計劃。他提到「理科學生,尤其需要因應評分標準,藉明確關鍵詞,寫出精準的答案。」而要做到精準的境界,鑽研過往試題不可或缺。
不要害怕犯錯
除此之外,他認為更重要的是,不要害怕犯錯。他說:「不要害怕犯錯,因為錯誤讓你明白你需要努力的方向,使你知道你需要做些什麼,以便裝備自己,迎向文憑試的挑戰。」這心態源自貫之一向以來自我反省的習慣,這使他能善用有限的時間,專注於正確而有意義的事情。
充分休息
對於莘莘學子來說,考試壓力很大。今年,更遇上嚴峻的疫情,貫之又以什麼方法來應對呢?他說:「我每天都調整自己的生理時鐘,以確保自己有充足的睡眠。我從不勞役自己,過度學習。正因如此,即使在考試的日子,我仍然能保持心態平靜。」
面對未來全新的學習環境,貫之已制定不同的學習目標,並針對目標擬定學習計劃。展望未來,貫之希望能在全新的環境中,繼續拓展不同的學習領域。我們在此祝願貫之,有更美好的前程!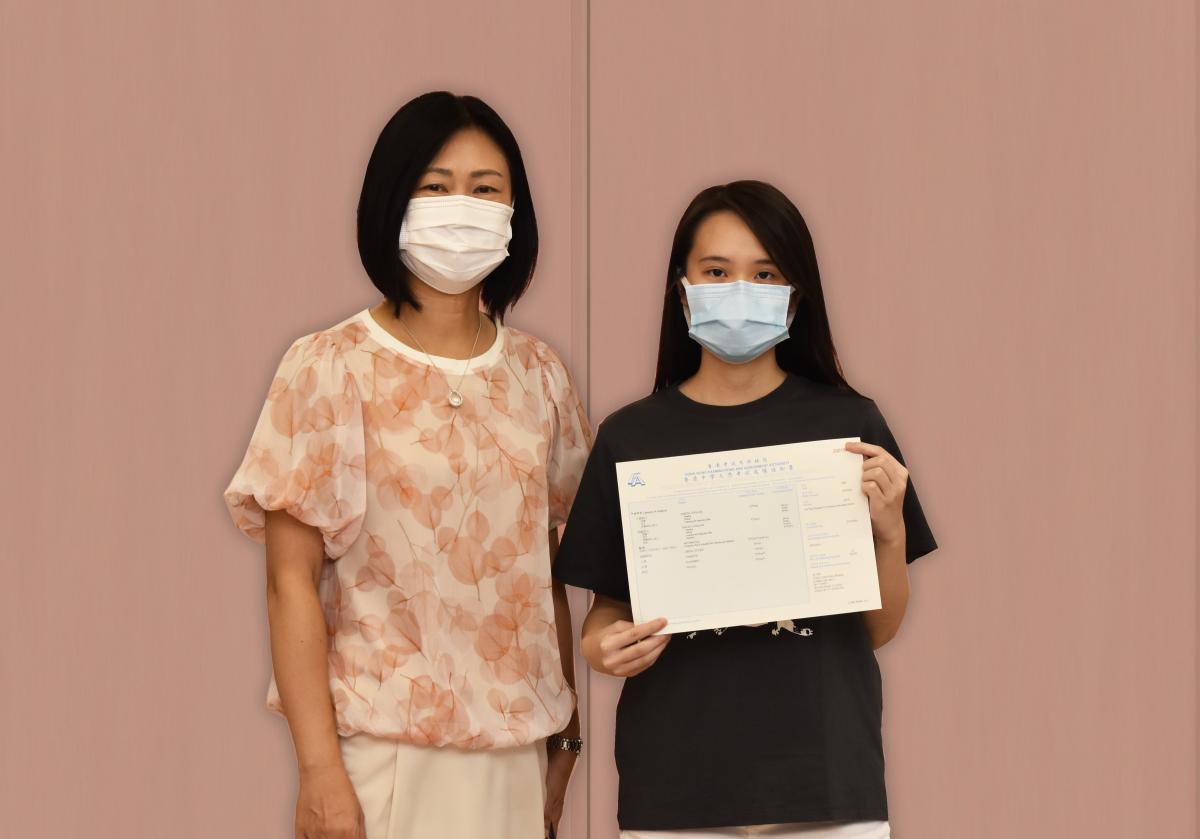 中六甲 曾芊榕
天道酬勤,勇敢追夢
考獲兩科5**和三科5*的曾芊榕於中學時期熱衷於數理科目,在高中時更參與不少有關科學的活動與比賽,例如聯校科學展覽、化學奧林匹亞競賽等。為將來能於科研方向發展,她希望入讀有關電腦及資訊科學的大學學科,以滿足自己的興趣和繼續追尋多年以來的理想。
問及芊榕成績最滿意的學科,她表示數學科是她最喜愛和最用功的科目,因此最終得到5**的成績也算是好的回報。
雖然疫情期間面授的課堂減少,但芊榕並沒有因此而停下,反而時刻提醒自己要調節好生理時鐘,埋首學習之餘也注重休息,讓自己以最好的狀態備戰公開試。她更寄語學弟妹,用心上課之餘,也要同時努力提升自學能力,多備課和重溫所學,持之以恆,才能跬步千里,學有所成。