2014 HKDSE Results
第三屆中學文憑試學生成績綜合匯報
3rd HKDSE Exam Results Report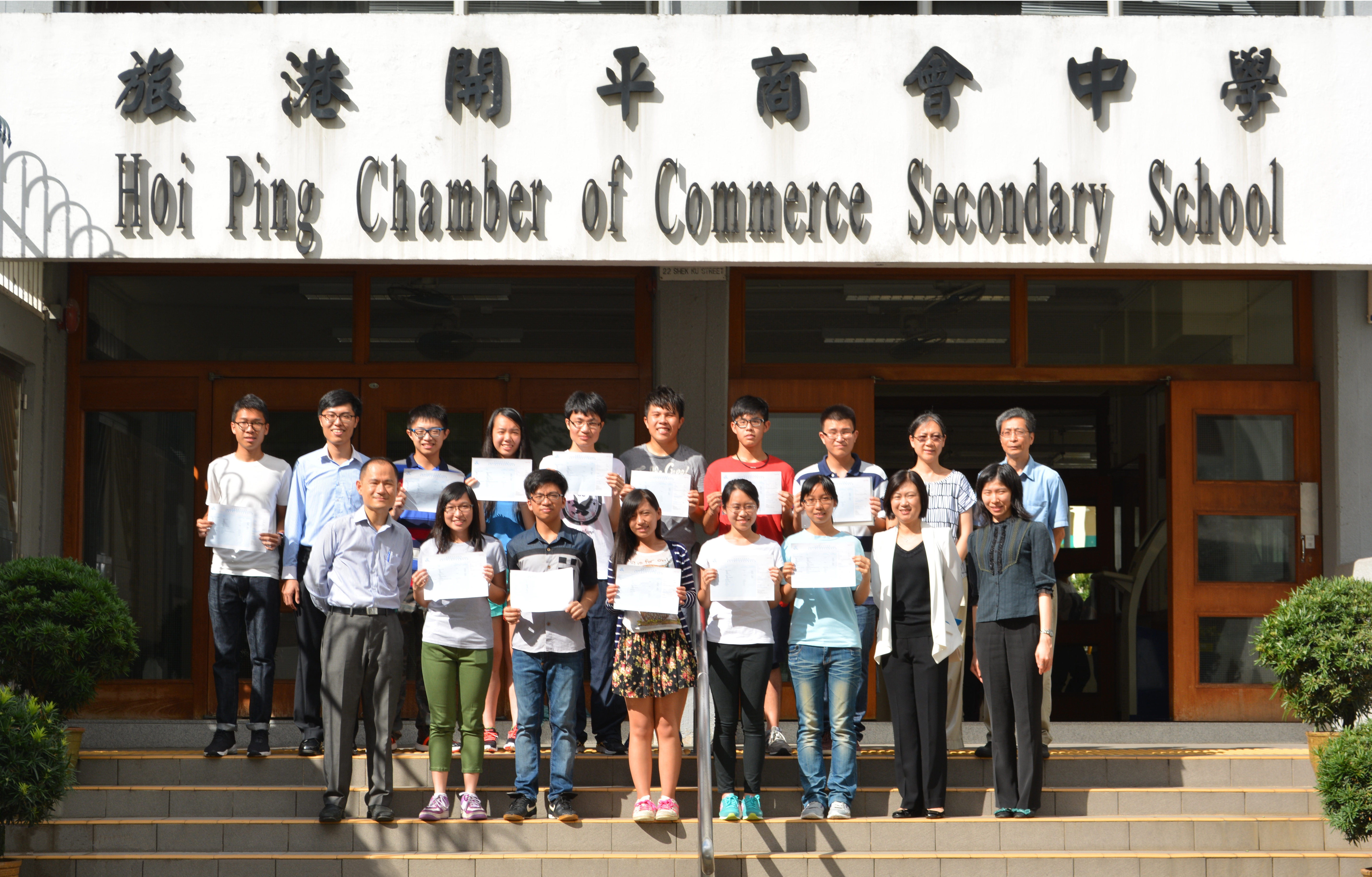 Hoi Ping's tradition of academic excellence is carried on this year as our students continue to impress in the HKDSE. After months of preparation and hard work, their diligence is now rewarded with pleasing results. The following are Hoi Ping students' statistics in the 2014 HKDSE:
開平中學今年繼往開來,再次於公開考試中取得優異的成績。經過連月來的努力和準備,同學的勤奮終於獲得成果。以下是本校學生的成績統計:
Lam Sin Wing 6B
There is a reason why Lam Sin Wing has been achieving remarkable results in exams—he has a passion for reading. A scholarly student, Lam reads for academic interests and leisure. He thinks that reading enriches knowledge and improves language proficiency. Despite having a lot to study for the DSE, Lam had his own way to deal with the challenge. 'You have to be serious about every test and exam in those three years. It is the continuous training that helps consolidate your knowledge.'
When asked about his aspirations, Lam said he had applied for science and engineering programmes because he is eager to try his hands at scientific research.
林善榮 6B
林善榮預期的成績與公開試成績相約,他一直於學校保持良好的成績。平日他喜歡閱讀,他閱讀的書籍種類非常廣泛,既有與學術相關的科學書、亦有消閒類型的小說。他認為閱讀課外書,有助增進學科知識、提升語文能力,而且在閱讀中他能尋找到許多樂趣。雖然文憑試的內容很多,其中如中國歷史科有許多資料需要背誦,但林同學認為只要認真對待每次校內測驗及考試,經過三年的多次測考後,知識便會變得牢固。林同學期望入讀科學或機械工程學系,因為他熱愛科學,希望將來能夠投身於科學研究。
Kwan Man Kit 6D
Kwan Man Kit was the chairperson of Students' Union. He also participated in a lot of leadership training camps, so he had a very busy timetable. Still, he managed to make progress in studies all because of one decisive quality—he understands the importance of time management. It allowed him to work efficiently, so that he could strike a balance between studies and his numerous responsibilities outside the classroom.
Kwan shared his study tips with Hoi Ping students. 'Making your own notes is the best way to study,' said Kwan. 'When you're organising your notes, you'll have a better understanding of the concepts.' Another way is to work on past papers. 'It helps because you can test whether you have a good grasp of your understanding on the subject.' How did Kwan cope with difficulties in his studies? 'Always ask the teachers, because they can inspire you to think more!'
Kwan has set his sight on Global Business as it offers overseas internship opportunities, which he hopes will widen his horizon.
關文傑 6D
關文傑於校內擔任學生會會長,同時參與不少校外的領袖訓練活動,因此他每天的生活都非常忙碌。但他表示學生會的職務雖然繁重,卻從沒有令他的成績下滑,相反令他不斷進步。正因為他知道學生會的工作已佔用他一定的時間,所以他要善用時間,提高工作效率,務求兼顧學業與領袖工作。談到讀書心得,關同學認為自己編寫筆記是有效的溫習方法,在整理筆記的過程中,可以把事物的邏輯關係以完整的脈絡呈現。關同學表示過往他常以操練過去的試題,以作重溫,這個方法可以真正測試到自己不明白的地方。而提到學習上的困難,他說過往遇到學習難點,他會請教老師,透過當中的學術討論,令他得到不少裨益。關同學期望入讀環球商業學系,未來在大學裏爭取機會到海外實習,以擴闊視野。
Outstanding HKDSE Performance 2014
Class

Name

5**

5*

5

Total grade points

from best 5 subjects

6B

Lam Sin Wing

5

1

1

35

6D

Kwan Man Kit

5

2

35

6B

Ng Wah Fai

1

5

1

31

6B

Li Man Huen

2

1

4

30

6B

Tong Fong Yu Florence

2

1

4

30

6B

Chau Kwok Yan

1

3

2

30

6B

Choy Tsz Hin

1

3

2

30

6E

Lui Shuk Ying

1

3

2

30

6B

Tsoi Chun Hin

1

2

1

28

6A

Chau Natalie

1

1

3

28

6A

Ou Kun Lin

1

1

2

27

6B

Pun Won Sau

1

1

2

27

6B

Wan Kwing San

1

1

2

27

6B

Chan Ming Fai

1

4

27

6B

Chung Yee Lam

1

1

24