Principal's Message - April 2021
Human Touch - Soil of School Culture
Our school history and vision, policies and regulations, behaviours and facilities are the building blocks of a school culture which is created and shaped by different stakeholders over a long educational process. The culture of the school and its deep-rooted heritage lay the foundation of its development, and whether the school culture can be effectively inherited is the key to its continuous development. As a Principal with no prior experience in Hoi Ping, I fully understand that it takes more time to familiarize with the school context and sort out the paths of inheritance. The school is a place to educate people. When people come together, there will be relationships and bonding which will result in inheritance.
Teacher-student bonding is the link to the school's cultural heritage. It is always touching to see former students come back to their alma mater and talk about their old school days with teachers. It is touching to see how much students cherish their past and appreciate their teachers. It is even more touching to see that the school culture has successfully passed on from one generation to another. Hoi Ping graduates have a strong sense of belonging and are willing to support the school in various ways, such as being a sharing guest or providing scholarships. Recently, the school has established an Education Fund which aims at supporting the continuous development of the school and allowing more Hoi Ping students to receive quality education. Some alumni immediately contacted myself through teachers, hoping to support students by contributing to scholarship donations. The school is home to Hoi Ping graduates who always miss their alma mater and it is not rare to find them joining school functions. The collective memories and common language with their fellow graduates and teachers are so precious that they would love to pass it on to the current students, hoping that such beautiful heritage will flourish.
Such overlapping relationships also increases the bonding between teachers and the school. The highly respected founding heroes, retired teachers and teachers who have left the school have their unique place in students' hearts and can bind people together. Recently, the librarian has been sorting out and scanning the precious historic photos of Hoi Ping. Every photo is fascinating. We would wonder which teacher it is and what event it was in the pictures. When Mr Shing shared with me the variety show back from the 20th Anniversary Celebration, I was deeply touched by the loving relationship between teachers and students. Entering the tide of retirement, we have to treasure these precious assets even more and consider how to turn the beautiful culture they have built into a boost for the school's development. If their expertise can be passed on to their successors and enhance professional development, both old and new teachers will benefit from it.
At the beginning of the Year of the Ox, with guidance from our Art teacher, Ms Chu, we invited Hui Hoi Lam of 3C to design a New Year Card to greet and wish all Hoi Ping-ers a new year of blessings. We wish to build a platform to gather the predecessors and recall the Hoi Ping memories in everyone's hearts.
For the school to move forward, the cultural heritage must be upheld and passed on. To do this, all Hoi Ping-ers must come together as one. Human touch is where the school's culture is hinged. Without such bonding, the people are not more than a physical existence.
醇厚人情味‧學校文化鏈結
學校文化包括辦學歷史及願景、學校的規章制度、行為方式及物質設施,由各持分者於長期的教育過程中累積和創造出來。學校的文化及底蘊的深厚是其發展的基礎,而學校文化是否可以有效的傳承則是其能否持續發展的關鍵。身為空降校長,不在原校晉升,更深明需要較多時間認識學校的情境脈絡,了解承傳鏈結,惟有經爬梳整理,方能傳承優良精神。學校是育人的地方,有人就會有情,有情就會有傳承。
師生情是學校文化傳承的鏈結。每當有舊生歸寧母校,與老師細數當年情,談得興高采烈,總是讓人感動。感動在於學生懂得念舊珍惜,感戴師恩;感動在於學校文化成功延續,薪火相傳。開平的畢業生對學校有強烈的歸屬感及向心力,只要學校振臂一呼,定會義不容辭,回校襄助。支援形式多樣,或擔任分享嘉賓,或提供獎學金。最近開平成立了教育基金,旨在讓本校在香港教育的辦學使命得以持續發展,讓更多開平學子接受更優質的教育。部分校友知悉後已蠢蠢欲動,聯絡老師,希望可以薄盡綿力,透過獎學金的形式扶掖後學。學校既是畢業生的心之所安處,縱是離校,仍會對母校念念不忘,故不難於學校大型的節慶活動中找到他們的身影,不為其他,只因那是畢業生與老師的集體回憶及共同語言,又因情之所動,欲將昔日受益於前人的美好經歷傳承予今日的學弟學妹,冀以代代相傳,不斷複製美好回憶。
環環相扣的鏈結還凝聚了老師與學校之間的情誼。那些已退休的先賢前輩或德高望重的開國功臣,或已離職而民望甚高的老師,對學校有一定建樹,在同學心目中有一定的號召力,是團結人心的紐帶。近日請圖書館理員協助整理及掃瞄積存已久的開平舊照,每每翻開總讓人陶醉,我們會猜那是哪位老師?我們會估那是什麼活動?而當成鴻基老師傳來彌足珍貴的20周年校慶綜藝表演時,更有一種說不出的感動,我雖不在當日的時空,卻可感受到當日的師生情誼,揚歌歲月,樂韻飄送。踏入退休潮,我們更要珍惜這些學校寶貴的資產,並要思考如何讓他們累積的優良文化得以轉化為促進學校發展的助力。如能就其專長,推動教師專業發展,做好新舊交替,想必是相得益彰。趁牛年開始,得美術科朱老師指導,請3C許愷琳同學設計賀年卡,冀向各開平前輩於新春祝好問安,亦望能搭建凝聚前人的平台,維繫那分流淌在大家內心的開平情懷。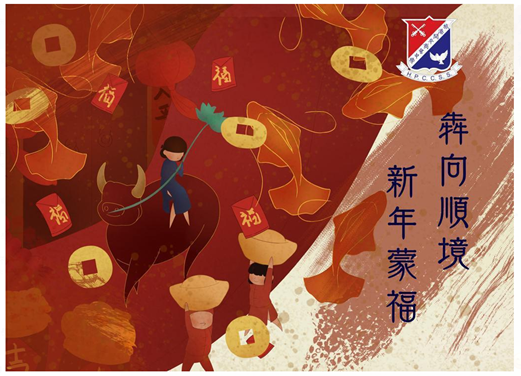 學校要發展,其文化就不能斷鏈,而如要做好傳承,就要凝聚人心,因為人情味是學校文化積澱所在,沒有情就沒有人了。